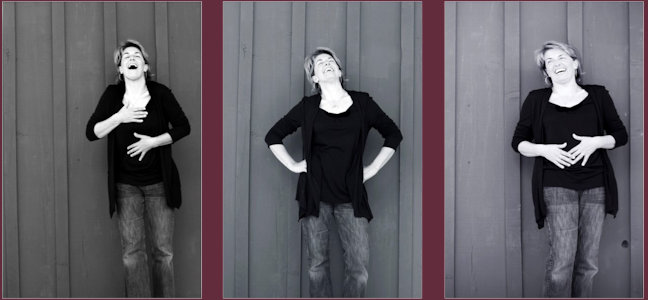 Kath Robinson
is a new thought practitioner, music minister and inspirational singing teacher. Her workshops, classes and private vocal coaching provide a safe place where singers and non-singers alike can connect, heal and transform through the power of music. Whether participating in a soloist training, vocal study group, choir or a community class, singers of all levels will find practical tools, support and a transformative consciousness with which to express their unique power, authenticity and artistry in a deeper more effortless and enlivened way.
Kath was a soloist, founding member, assistant to the director and then the Director of the Inner Light Choir – a 75 Voice multi-cultural, multi-faith gospel choir at Inner Light Ministries in Santa Cruz Ca. As one of the primary music ministers at Inner Light under the direction of Valerie Joi Fiddmont and Reverend Deborah Johnson, Kath offered classes in music ministry, designed and developed the community praise team ministry, trained and mentored soloists and musicians, and supported a multitude of guest musicians such as Jami Lula, Karen Drucker, Faith Rivera, Nadine Risha, Esther Nicholson, JD Martin & Jan Garrett and Girish to name just a few. She produced annual choir concerts and had the opportunity to collaborate with guest artists such as Rickie Byars Beckwith and Michael Bernnard Beckwith, Tim MacAfee Lewis, Charles Holt, Danda Da Hora, Tammi Brown, Heather, Houston, Tammy Hall and many other New Thought artists.
As a soloist and guest musical inspiration Kath has performed at a variety of New Thought Spiritual Centers through out the Bay Area including Unity Temples, Centers for Spiritual Living and the Center for Spiritual Enlightenment. Her album, 'Blessed Be' is a tribute to the beautiful blend of Gospel and New Thought music that she has shared with congregations over the years.
Since 2006 Kath has taught a variety of music ministry classes to the public including, "Sing for Joy! Singing as a Spiritual Practice", "Lift Every Voice!", "The Power of Sung Prayer" as well as community praise and soloists workshops. Prior to her work at Inner Light Ministries, Kath provided music for women's rituals and sacred gatherings and she sang with the award winning A Cappella group "VocaMotion -Voices to Move the Spirit" for 7 years. Kath is also a student of Christiaan Boele and the School Of Uncovering the Voice founded by Valborg Werbeck. Her work includes vocal coaching for soloists as well as voice development through restorative vocal exercises that help the student connect with that which enlivens the soul of each singer.
Kath is the Music Program Coordinator at Unity Spiritual Center Denver. She lives with her partner of over 30 years and together they enjoy all of the outdoor fun that Colorado has to offer.   
Living
in the

Soul

of

Your Voice

Spiritually Grounded Vocal Coaching, Music, Classes and Workshops

Kath Robinson
831-588-3840
www.yoursoulvoice.com
Kath@yoursoulvoice.com